ANZ - ANZ

The Australia and New Zealand Banking Group Limited (ASX: ANZ) is the smallest of Australia's 'big four' banks. It is however the largest bank in New Zealand, and has a significant presence in the South Pacific and in Asia. It was first listed on the Australian Stock Exchange in 1969.

ANZ began in 1835 in London when the Bank of Australasia was created there by Royal Charter. Subsequent mergers eventually resulted in the current entity being formed in 1970. It was incorporated in Australia in 1977 and built world headquarters in Melbourne, Australia in 1993.

ANZ has been aggressive in outsourcing its personnel requirements to India. It has had an office in Bangalore, India since 1989, and today has over 1,800 of its staff located there. It is also poised to open branches in India, with apparent approval from Indian officials for the bank to open a branch in Mumbai.

In 2009 ANZ staged a successful takeover of the insurance company ING Australia, making ANZ Australia's third largest insurer. In the same year it also opened a branch in rural western China, making it one of the first international banks to begin operating in rural China.

Last recorded profits by ANZ were AUD$3.7 billion.

ANZ's company headquarters remain located in Melbourne, Australia, with a flagship building at 100 Queen Street and now a second building in Melbourne's Docklands precinct.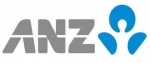 Company Name:
ANZ
Stock Symbol / Ticker:
ANZ

Country:
Australia