BHP - BHP Billiton

BHP Billiton Ltd. (ASX: BHP)(LSE: BLT)(NYSE: BHP) is the world's biggest mining company. It is also, of course, the largest company in Australia. It was formed in 2001 when the Australian company Broken Hill Proprietary Company merged with the Dutch-based company Billiton.

Broken Hill Proprietary Company was incorporated in 1885. Its first operation was a silver and lead mine, but it branched into steel manufacture in 1915, and later into petroleum exploration and mines outside of Australia.

Billiton was also a mining company, one that began in 1860 in The Netherlands. After establishing mines in Indonesia and Suriname and a smelter in The Netherlands Billiton was acquired by Royal Dutch/Shell in 1970. Its mining division was later acquired again, by Gencor 1994, but then divested in 1997. When it merged with Broken Hill Proprietary Company it had mines all over the world, including in South Africa, Colombia, Australia and Mozambique.

BHP is dual-listed on both the Australian Securities Exchange and the London Stock Exchange (LSE). BHP Billiton Ltd. is the majority partner and is Australian-listed; BHP Billiton Plc is the minority partner and is listed on the LSE. Both are also listed on the New York Stock Exchange.

BHP's main activities are mining and processing. The materials it mines and processes include iron ore, petroleum and base metals. BHP carries out its operations in 25 different countries, but the majority of its facilities (36) are in Australia.

BHP recently (2007) sought to purchase the Australian mining group Rio Tinto, but their initial offer failed and the bid was dropped about a year later, with the company citing that the bid would mean unacceptable risks due to the global financial crisis.

In 2009 BHP sold a nickel mine in Western Australia, again citing the global financial crisis as the reason. This cost the company US$3.6 billion in writedowns.

BHP reported profits of US$15.962 billion in 2008.

BHP has headquarters in Melbourne, Australia, and London, United Kingdom.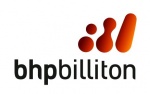 Company Name:
BHP Billiton
Stock Symbol / Ticker:
BHP

Country:
Australia