RIO - Rio Tinto

Rio Tinto Limited (ASX: RIO) is the Australian half of the dual-listed British-Australian mining and resources giant, Rio Tinto Group. Rio Tinto Limited was first listed on the Australian Stock Exchange in 1970. The British half, Rio Tinto Plc, is listed on the London Stock Exchange and forms part of the FTSE 100 index. Shares in Rio Tinto Plc can be traded indirectly on the New York Stock Exchange via American Depositary Receipts.

Rio Tinto Group is currently the fourth-largest mining company in the world, with a market capitalization of about US$34 billion. It was founded in 1873 when a consortium of investors purchased a mine located in Spain (the name Rio Tinto comes from a river near the mine site). Operations were focused on this mine along until 1925, when the company began to explore and expand outside Spain, for example in copper mining in Rhodesia.

Since 1925 Rio Tinto Group has grown through many mergers and acquisitions into the company that it is today. The most recent acquisition was of the Canadian aluminum miner Alcan for US$38 billion in 2007.

Rio Tinto's main activities are the extraction and refinement of minerals. It has five operational businesses: 1) Rio Tinto Copper; 2) Rio Tino Alcan; 3) Rio Tinto Energy; 4) Rio Tinto Diamonds & Minerals, and 5) Rio Tinto Iron Ore. These groups control many, many partly and wholly owned subsidiaries in various mineral extraction and refinement areas.

In 2009 Rio Tinto Group recorded profits of US$4.872 billion, despite losses from Rio Tinto Alcan of $578 million due to low aluminum prices.

Rio Tinto's headquarters are located in Melbourne, Australia and in London, United Kingdom.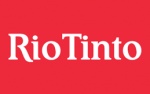 Company Name:
Rio Tinto
Stock Symbol / Ticker:
RIO

Country:
Australia