AIG - AIG

American International Group, Inc. (NYSE: AIG) has a unique beginning in that it was founded by American businessman Cornelius Vander (C.V.) Starr in Shanghai, China in 1919.

The company headquarters was moved to New York City in 1949 when the war broke out and Shanghai was in the sights of Mao Zedong. AIG is remains based in New York City since that time.

AIG offers products through four core businesses: General Insurance, Life Insurance and Retirement Services, Financial Services, and Asset Management, both in the United States and internationally.

The general insurance line of AIG underwrites insurance for individual, business and institutional customers concerning life insurance, property-casualty and retirement services insurance.

Some recent transactions by AIG has been to sell its 50 percent stake in London City airport; selling it's residential mortgage-backed securities portfolio; and to sell off EMI Ltd.; all of this since early 2008.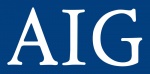 Company Name:
AIG
Stock Symbol / Ticker:
AIG

Country:
United States