DAL - Delta Air Lines

Delta Air Lines (NYSE:DAL) was founded in 1924 as the Huff Daland Dusters, the first aerial crop dusting company in the world. In 1928, C.E. Woolman acquired the company and renamed it Delta Air Service, referencing the Mississippi Delta region it served at the time.

Today Delta Air Lines provides services to around 567 destinations across the globe in 112 countries.

Major hubs for the airline include Atlanta, New York-JFK, Cincinnati, Detroit, Memphis, Minneapolis-St. Paul, Salt Lake City, Amsterdam, Tokyo-Narita and Paris-Charles de Gaulle.

In 2005 Delta filed for protection from its creditors via Chapter 11 bankruptcy, saying the high cost of jet fuel and labor costs were the reasons behind their actions. Debt at the time of the filing stood at $20.5 billion. They emerged from bankruptcy on April 30, 2007.

A major move for Delta, Northwest Airlines, and the industry in general happened when the two companies announced they were going to merge, which would end up making them the largest airline company in the world. They would remain branded under the Delta name.

The company is based in Atlanta, Georgia.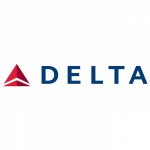 Company Name:
Delta Air Lines
Stock Symbol / Ticker:
DAL

Country:
United States