IM - Ingram Micro

Ingram Micro Inc. (NYSE:IM) was founded in 1979, and in a relatively short time has become the leading distributor of technology in the world.

Wholesale distribution products include IT or information technology products and solutions to supply chain, supply chain problems and other related needs. Ingram markets the majority of major technology products manufactured around the world.

Almost every type of technology product used by consumers or businesses are represented and distributed by the company. Product segments it serves are networking products, systems, software, and peripherals.

The year 2008 was an extraordinarily busy one for Ingram Micro, as they went on an international acquisition spree which landed them Paradigm Distribution Ltd., based in Britain; Cantechs Group of China; Eurequat SA of France; Intertrade A.F. AG, based in Germany. All of them were distributors acquired either for AIDC/POS technologies or mobile data to solutions providers and system integrators.

Ingram Micro Inc. is headquartered in Santa Ana, California.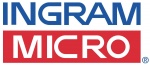 Company Name:
Ingram Micro
Stock Symbol / Ticker:
IM

Country:
United States