VLO - Valero Energy

Valero Energy Corporation (NYSE: VLO), an owner and operator of 16 refineries located in the United States, Canada, and Aruba, was created on January 1, 1980 after a prolonged lawsuit involving LoVaca Gathering Co. resulted in a $1.6 billion settlement which ended with Valero being spun off from LoVaca parent Coastal States Gas Corp.

Valero operates under two divisional sectors: retail and refining.
Under retail, such brands as Diamond Shamrock, Shamrock, Stop N Go, Corner Store, Valero, Total, Ultramar and Beacon are under its' company umbrella.

Retail products include gas, convenience store merchandise, and home heating oil.

The company produces products in its refining unit such as regular gasoline, jet fuel, petrochemicals, distillates and lubricants, among a number of others.

When Valero acquired Ultramar Diamond Shamrock in 2001, it bacame their largest historical acquisition, and launched them into being among the top three refining and marketing companies in America.

Other significant acquisitions include Huntway Refining Company and lease agreements with purchase options from El Paso Corp. for a 115,000 BPD refinery located in Corpus Christi, Texas.

Headquarters of Valero is in San Antonio, Texas.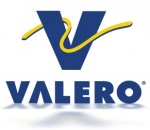 Company Name:
Valero Energy
Stock Symbol / Ticker:
VLO

Country:
United States